So far we've raised $

2,545,841
Gerry just donated

$106.31

Rachael just donated

$21

Gerry just donated

$124.95

Shiho just donated

$36.75

Gerry just donated

$110.25

MINGUK just donated

$200

YOU just donated

$10.50

Gerry just donated

$109.72

Shirley just donated

$100

Erin just donated

$20

Ilse just donated

$105

Riyadh just donated

$5

Claire just donated

$25

Rosemary just donated

$78.75

Rajesh just donated

$36.75

Sandy just donated

$105

Meredith just donated

$36.75

Judy just donated

$105

David just donated

$52.50

Phil just donated

$100
The race against COVID-19 is global and the RBWH Foundation is helping fund the fight from all angles.
You can choose to support the following projects through the
RBWH Foundation Coronavirus Action Fund.
Donate today to support COVID-19 clinical and medical research.
While the Federal and State Governments have provided significant funds to support hospitals, medical teams, businesses and the community during the COVID-19 pandemic, donations help us make a huge difference to the development of important medical research projects, including testing potential COVID-19 treatments.
The Royal and Brisbane and Women's Hospital (RBWH) is home to world leading clinical and medical researchers. Your funds will help ensure they can continue to break new ground amidst the COVID-19 pandemic.
Medical research projects supported by the RBWH Foundation may include:
Repurposed TB vaccine to protect frontline healthcare workers
All vaccines stimulate the immune system. An old vaccine against tuberculosis, called BCG, has been shown to improve the immune system for at least six months. In this way, it is known to prevent viral infections. This trial aims to show if the BCG vaccine can prevent frontline healthcare workers developing COVID-19 and other respiratory infections.
Medication dosage for seriously ill patients
Although the majority of people have minor symptoms from COVID-19, some people become critically ill. Researchers are conducting analyses on the impact of severe novel coronavirus infection on levels of medications in patients' blood and lungs to determine the right dose of medications to be administered. This will prevent side effects and will guide the types of medication and dosage to increase the likelihood of recovering from COVID-19.
COVID-19 related superbug treatments
Experience overseas has been that a substantial number of COVID-19 patients have developed infections due to bacteria that are resistant to all, or almost all, antibiotics after ventilator use. The research program, led by a team of RBWH doctors, will study antibiotic resistance in Australia, Europe and Asia to determine the best way to treat the superbugs which can follow serious COVID-19 infections.
ASCOT Clinical Trials

The RBWH Foundation has proudly supported a national COVID-19 clinical treatment trial called the AustralaSian COVID-19 Trial (ASCOT). ASCOT is open for patient enrolments. Patients are eligible if they are admitted to hospital with COVID-19 infection, but not sick enough to require admission to intensive care units (ICU).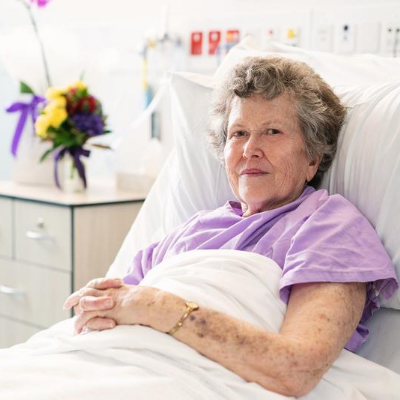 Donate today to support COVID 19 preventative projects.
The importance of preventing the spread of COVID 19 cannot be underestimated.
COVID 19 preventative projects supported by the RBWH Foundation may include:
Protocols for Point-of-Care testing
A number of commercial point-of-care diagnostic testing options (Cepheid, Abbott) and research-use-only diagnostic testing options for the COVID-19 are now available. However, there is no understanding of their acceptability to the residential aged care workforce, or exactly how they would be deployed in fever clinics and other sites separate to traditional places of testing. This research will investigate the logistic issues in how point-of-care testing would take place and what impact it would have on patient outcomes.
App to protect vulnerable elderly in nursing facilities
It is of absolute importance that our vulnerable elderly populations are protected. A program is being developed to prevent the introduction of COVID-19 into nursing homes by training staff members to have the heightened self-awareness of the risk that coming to work sick may pose to aged care residents. A state-of-the-art app is being developed which will encourage positive behaviours of workers so that everything is being done to protect residents.
Telehealth to reduce anxiety in residential aged care
85% of residents in Australian aged care facilities report at least one diagnosed mental health or behavioural disorder, ranging from dementia through to depression and anxiety. However, mental health services are not routinely available in this era of 'lock downs' due to COVID-19. While medications may be used to treat some symptoms of anxiety there is concern about 'over-medication' of elderly people. This study is of a unique telehealth intervention to reduce anxiety in the elderly without the need for drug therapy.
Software to help track spread of COVID-19 in nursing homes and hospitals
Software is currently utilised by hospital infection control teams in visualising hospital-acquired infections. Researchers will modify the software to examine cases of COVID-19 at any residential aged care facility by place and time. Researchers aim to overlie this data with staff allocations to gain real-time understanding of the spread of COVID-19 in any given facility. An assessment of user perspectives and feedback through interviews and focus groups will be performed.